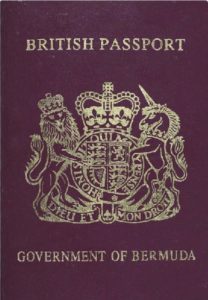 BERMUDA PASSPORT
Supporting Documentation needed to apply for a British Overseas Territory (Bermuda) New Passports for the first time – Child
Documents from the following list should be presented in support of your passport application.  Unless otherwise stated, original documents are always required and will be returned after examination.  Photocopies and laminated documents are NOT accepted.
The onus is on the applicant to provide enough evidence to satisfy the Passport Officer of their identity and claim to hold a British passport.  It will help your child's application by submitting as many of the items below as you can.  False documents will prejudice your child's application.
When satisfactory documentation has been produced and enquiries complete, the applicant and/or parent may be interviewed by the Passport Officer.
An application form, completed and countersigned, together with two passport-sized photographs (one should be properly endorsed by the person countersigning the passport application form).
A long birth certificate (no other is acceptable)
Identity Documents
If not born in the country from which you are applying, the passport that you used to travel to that country (permanent residence certificate or naturalization certificate for that country would also be considered)
Certified copy of photo ID
Parental Documents
Current identification for both parents
Evidence of how parent became a British Overseas Territory citizen: e.g. original full birth certificate or original naturalization/registration certificate
Full, unabridged marriage certificate (must show marital status, e.g. bachelor and spinster)
If either parent has married before, divorce document or death certificate from previous marriage